Update: This has been the most popular post I have written, so I have gone back and updated a few things and added links to get products you need to make this project possible.
Refrigerators can be a pain when the burn out. Their big, bulky and have Freon, which is apparently bad for the environment, thus making it difficult to get rid of an old freezer or refrigerator. However, there are some thrifty ways to reuse an old fridge, especially if you enjoy smoking meat 🙂
A friend once told us that you can take an old refrigerator or freezer and turn it into a smokehouse. We were skeptical at first, but a couple weeks later our freezer burned out, so we decided to give it a try. Without much construction, we had a beautiful smoker.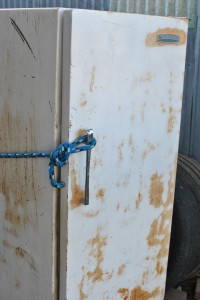 Functional is more of the word we are looking for. It was pretty simple. All we did was take off all the Freon contaminating things on the back (took that to the recycling plant) and put the freezer in a location that was accessible. (Maybe keep it away from structures in case of the off chance it catches on fire).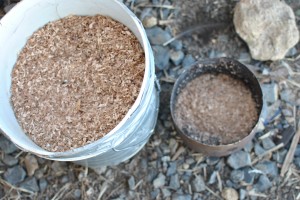 We cut a small slat at the bottom so we could run an electrical cord into the freezer for the hot plate. We bought a basic cheap hot plate at a consignment shop for heating the wood chips that was placed at the bottom of the freezer, I mean, smoker. We cut a coffee can in half to place the wood chips in, then placed that on top of the hot plate.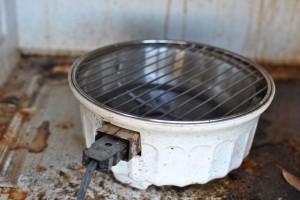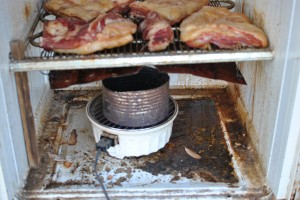 We also made a small little metal tent that covers the element and can with wood chips in it. The reason we do that is because whatever your smoking can sometimes drip and you don't want that going into your wood chips.
You don't have to worry about making any openings on the freezer. The seal on a freezer is not air-tight so the smoke will go through the seal of the freezer. NOTE: Keep an eye on the temperature if you can, we let it go overnight one time and got so hot that it melted the plastic on the inside door and totally cooked the bacon. Not a huge problem, but just check it every hour if possible.
The next thing we do is load the racks up with… BACON. Smoked bacon is amazing. However, it's not limited to bacon. Smoke whatever you would like: Fish, hams, roasts, etc.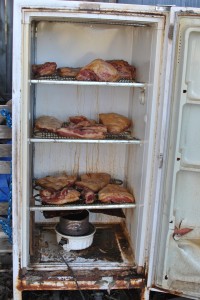 We soak the wood chips a couple hours in water, then when we are ready to smoke we just turn on the hot plate and wait for the magic to happen. Within a short period of time you'll start to see smoke pouring out of the top of the smoker, and then you'll know all is well 🙂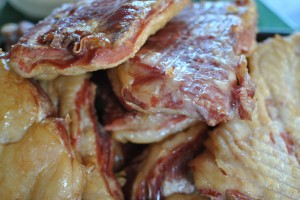 There you have it. The most simple thing to do with an old refrigerator or freezer.
Enjoy your smoking! And remember… Eat lots of bacon!